Who are we?
P1Software is a GarageLabs, LLC venture, helping motorsports teams make sense of data through our expertise in Software, DataViz, and DataScience.
We've been helping professional and amateur competitors in IMSA, SCCA, and Grand-Am motorsports.
What products and services do we offer?
Our products and services include:
P1TS – real-time strategy
P1Analysis.com – post-session analysis
Custom software, data analysis, and consulting
P1TS – Real-Time Race Strategy
P1TS is software that helps race engineers and strategists make informed race decisions by improving situational awareness from timing and scoring data.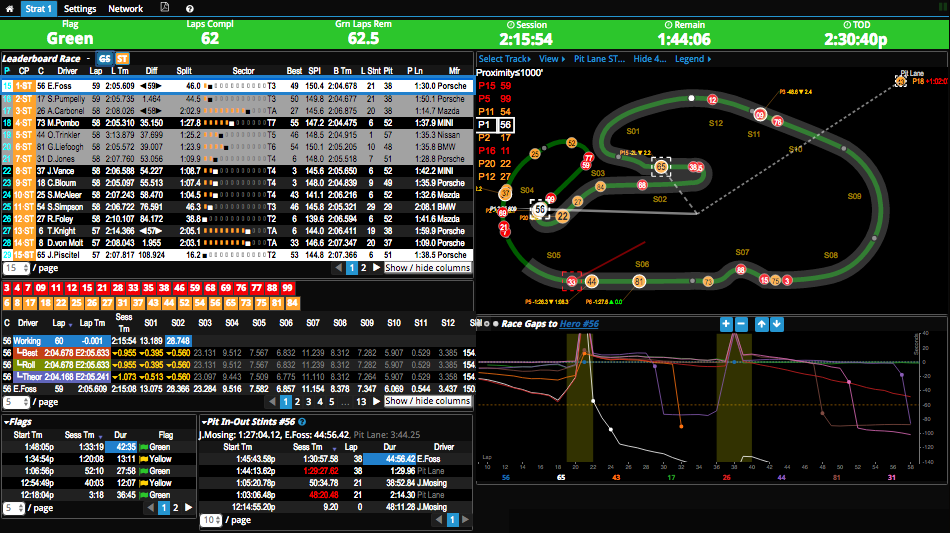 P1Analysis.com – Post-Session and Historical Analysis
P1Analysis.com is a web subscription service that provides IMSA WeatherTech SportsCar Championship and Continental Tire SportsCar Challenge race teams with a set of clear, insightful, and timely post-session reports to help with decision making.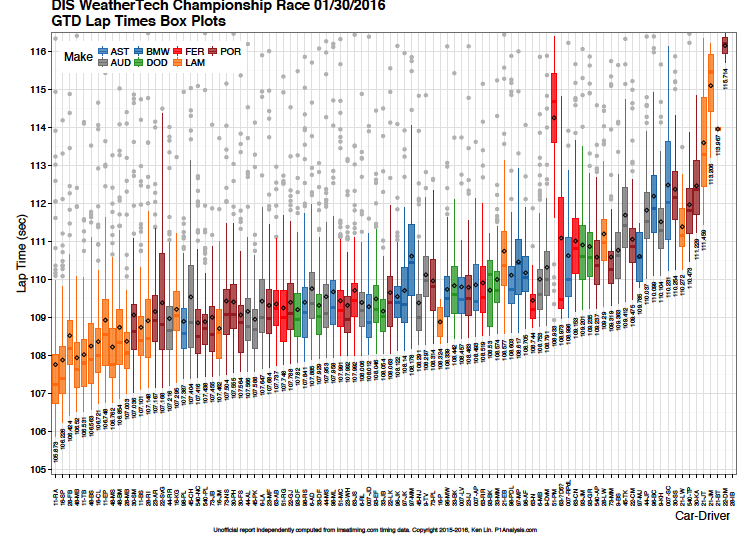 Custom Software, Analysis, Consulting
There's lots of data in racing, most of which is difficult to wrangle and then make sense of. Please let us know if you need help with software or analysis. We're always glad to listen and offer our advice.
Why choose us?
Ken is both engineer and owner, and is a professional computer guy that loves motorsports. He first directed his software, data visualization, and data science skills, nearly 20 years ago to create software producing visualizations for amateur SCCA autocross results. He later worked race weekends with Phoenix Performance in Grand-Am and IMSA, gaining valuable first hand insights into what teams need from their data. In 2014 he left his corporate software engineering job to devote his full time efforts to P1Software, and created P1TS and P1Analysis.com.
We're proud that our products and services consider the larger problem space that teams face, and provide approachable solutions to tasks; we don't just produce a collection of mysterious features. Our customers are an important part of our team, as they provide us with valuable technical and non-technical feedback and advice, improving our understanding of the sport and helping us shape our offerings. This in turn translates to a superior experience enjoyed by our customers.
When we're not at the track or working on P1Software, we're competing in SCCA autocross or instructing for Tire Rack Street Survival.
Who chooses us?
Winning IMSA WeatherTech SportsCar Championship and Continental Tire SportsCar Championship race teams, have been using our products and services since 2010. Here are the statistics for P1TS customers from the 2016 Rolex 24 Hour race weekend.
WeatherTech: 16 of 54 cars (30%)
Continental: 27 of 40 cars (67%)