P1Software is pleased to announce the immediate availability of P1Analysis.com for 2017, a web subscription service that provides IMSA WeatherTech and Continental series race teams with sets of clear, insightful, and timely post-session reports to help with decision making.
It eliminates Excel altogether during post-session timing and scoring data analysis, since P1Analysis.com performs all the data filtering, manipulation, and charting and simply delivers to you the final reports.
Quickly see your team's as well as other team's past performance and strategies through easy to access historical reports.
Complements Real-time Data
The service is the perfect complement to either our P1TS real-time timing and scoring strategy software or any other vendor's system you may be using.
Free Trial
Visit http://p1analysis.com to see sample reports and get your Free 2017 Daytona Trial subscription.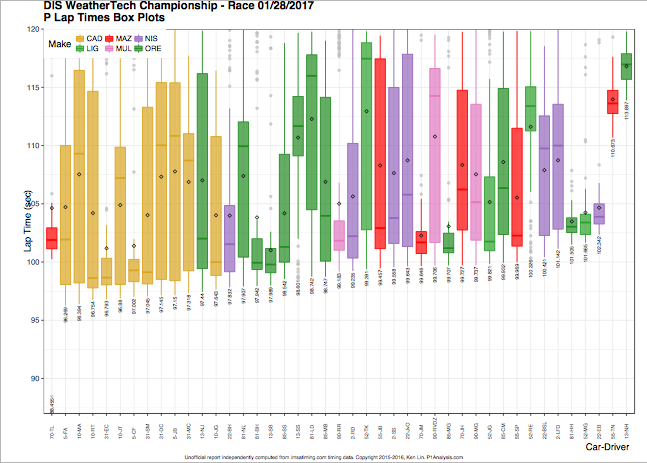 (Note: IMSA's timing and scoring data shows 70-TL with 1:28.455 on lap 460, which is obviously an incorrect time.)
Recent Lap Time analyses are shown here:
The Lap Time Box Plots are just one of the several P1Analysis.com report types. P1Analysis Study – 2016 Rolex 24 GTLM Corvette Racing #4 takes a detailed annotated look all its report types.
Its FAQ page answers many of the frequently asked questions.